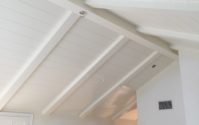 Craftsmanship Pays
Shiplap for Wainscoting, Wall Cladding, & More
Are you looking for a way to make your project unique? Choose your reveal! Install with up to a 1/2" gap between boards. Shiplap can be installed vertically or horizontally on walls and ceilings. It's also reversible -- smooth on one side and rough-sawn on the other.
Protected T&G for Wainscoting, Beadboard Ceiling, Porch Lids, & More
The Beaded T&G is available in both 4″ and 6″.  When installing, these can also be used as a V-Joint! These versatile profiles provide many installation options.